tillandsia
I decided to simplify around here a bit and re-designed this old site again. There are still some things to fix, like some font inconsistencies, and that weird Read More button on the bottom of every post. Frankly, however, I'm not sure when I'll get to those things because it's still summer and I spend eight hours a day in a windowless office staring at a computer screen, so I haven't really wanted to look at my computer when I'm home. I'd rather be outside while it's still light and warm in the evening. I hope you won't mind too much. Yawn! I am boring myself with this site design talk, let's move on to something I think is more interesting (although you may still find this post yawn worthy, so sorry!).
My limited success with my container gardening on the porch has sent me down a gardening rabbit-hole, and I have recently become enamored with tillandsias, also known as air plants. They're from the bromeliad family, and don't have roots, so they don't require soil. In fact, they require very little care other than occasionally spraying or dunking in water. I started out picking up the little guy in the middle (aka tillandsia aeranthos) at Home Depot for $5. It stayed alive for a week, so when I saw the one just above it on another Home Depot trip, I thought it's bulbous shape and long skinny fronds were interesting (it's called tillandsia butzii). So it came home with me too.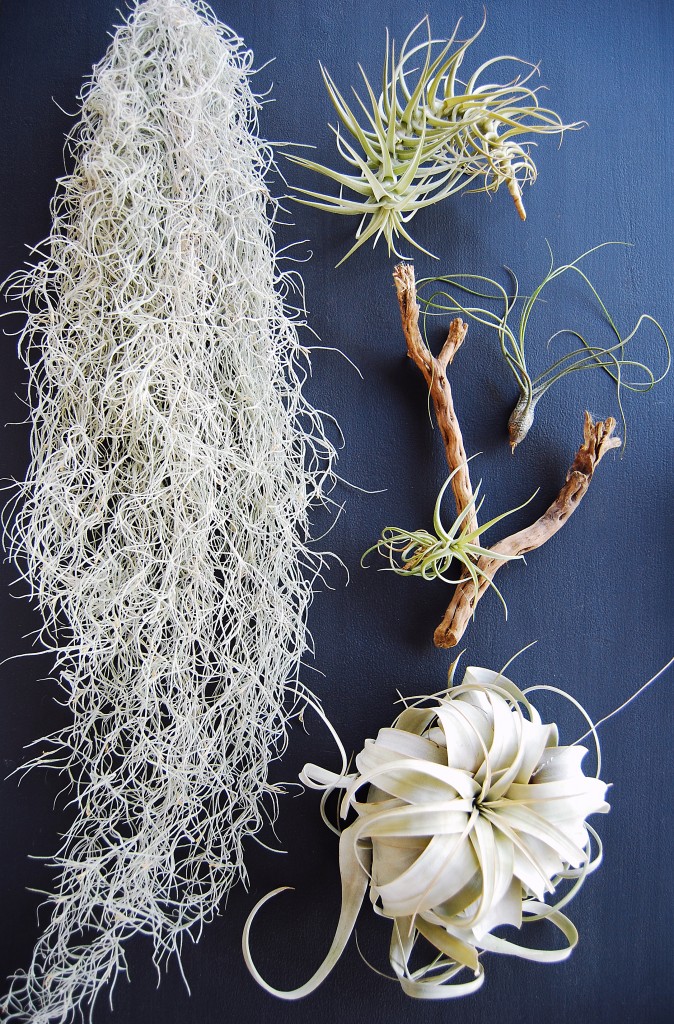 Then I learned that Spanish moss is actually also a tillandsia (tillandsia bergerii), and decided then and there that I was officially a tillandsia collector.  I added another tillandsia aeranthos, only a much bigger version (top right), but what I really wanted was a Tillandsia xerographica (bottom right). These are big and bold, with broader leaves that curl slightly as they get longer. When I spotted this one at a local nursery, I had to splurge and add it to the collection too. It's the size of a melon!
Now I need to figure out where I want to keep them all, and how to display them. Right now they're on (or hanging from) the shelf above my desk, but I think they'd like a little more light, so I may put them in the bathroom where they might also benefit from the moisture of the steam when we shower. Or they might end up in the kitchen by a sunny window. And next on my list: tillandsia tectorum. There are some nice containers and terrariums for air plants at that link too.
So that is your botany lesson for today.