green-ish thumb
I think it's pretty obvious that I like flowers. I also like vegetables, and I love the idea of a garden. I have tried a few times to turn the back corner of our property into a vegetable garden, without success. Despite the fact that this is Southern California, the elevation (4000 feet) at which we live makes for harsh conditions in the garden.
Our last frost date is Memorial Day, so that means there are few vegetables that I can plant outdoors before June. One year, I waited patiently for that last weekend in May, and then filled my 4′ x 8′ raised bed with just as many plants as I could. And then we have several frosty nights well into June, which reduced most everything to a black, shriveled mess.
Undeterred, the next year I tried again, although I was less ambitious, and didn't plant quite as much. Each day I faithfully watered my little vegetables, and every day it seemed like there were fewer plants. The soil itself seemed undisturbed, but a plant that I swore had been there the day before was suddenly missing. A closer inspection revealed very faint animal tracks, probably a rabbit or squirrel. Whatever it was, it made tidy work of eating my tender plants right down to the ground and letting nothing go to waste. Whatever little beast it was, it eventually ate everything.
This year, I had to move the geese out to that back garden pen, because they were beating up on my chickens, so there will be no attempt at a vegetable garden this year. Instead I've decided to focus on container gardening, and so far, I am enjoying much better results.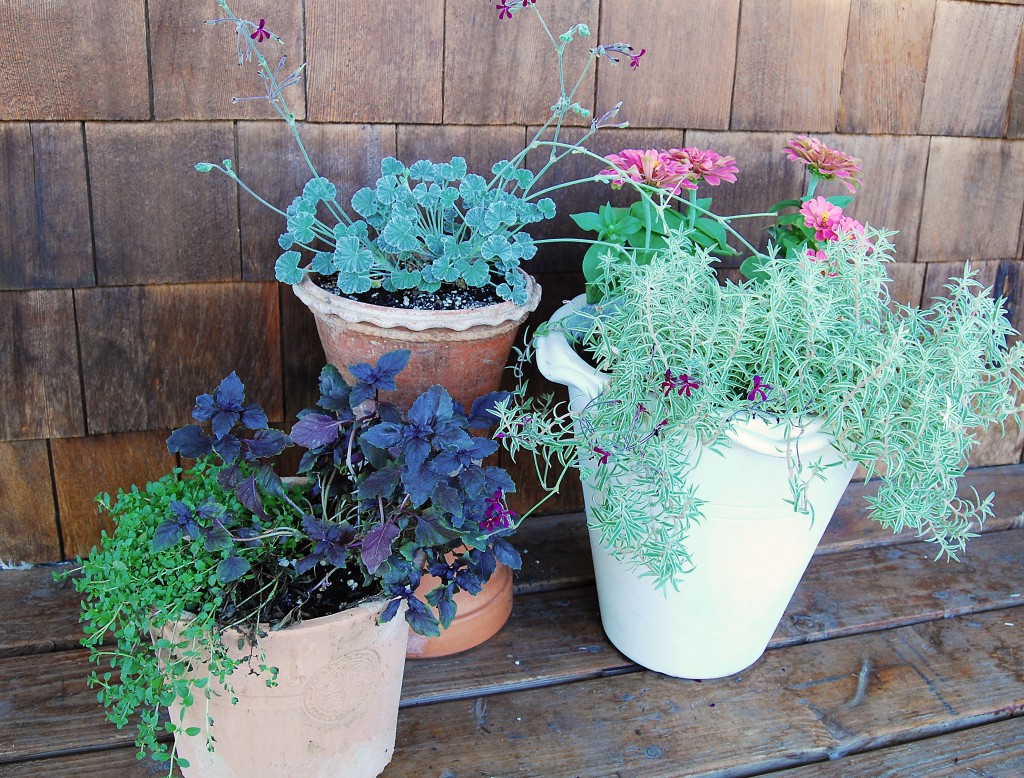 So far there has been only one casualty. I originally had a purple and white lisianthus in the middle pot, above. The day after I repotted it, the whole thing just keeled over. I have no idea why. I thought I'd try to return it, so I removed it back to the pot it came in, and it perked up a little. I don't know if it will recover completely, but I guess it liked it's cramped plastic pot better than my pretty, roomy, distressed terra cotta pot. I replaced it with this geranium, and I actually like this whole arrangement so much better.
I love the tiny flowers, and the silvery grey-green foliage.
I know it's all about the porch all the time around here, but I'm so happy with how it is coming together, and it is where I spend most of my time when I am home. All my pots of herbs and flowers and succulents are what make it feel so lush and special to me, and shockingly, nearly everything seems happy and is growing.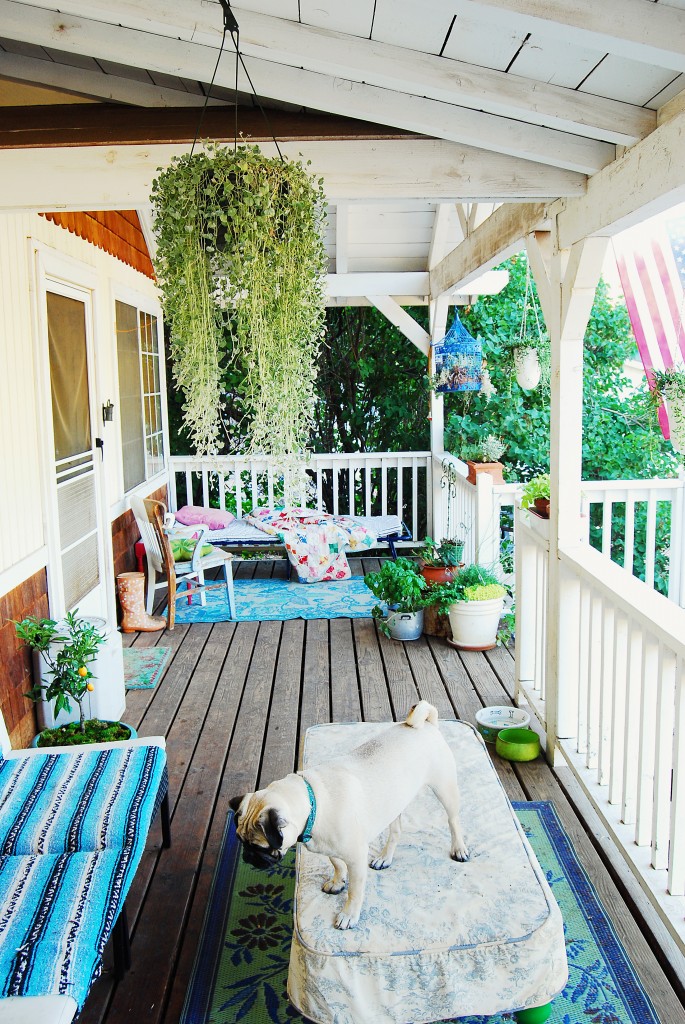 I got really ambitious and even added a dwarf kumquat, which will move inside this fall. I am going to try really hard to keep it alive. And the Silver Falls hanging just above is one of my favorite things. It's just in the ugly plastic pot it came it, so I need to find something pretty to put it in. Luckily, the plant covers most of the pot, so I hardly notice it.
Pulley is hanging out in my new seating area. I want to make a cover for the cushions on the love seat, and a new slipcover for the ottoman, so I'm not going to bore you with too many pictures of that area. I hope to have a really dramatic before and after post once I get that stuff done.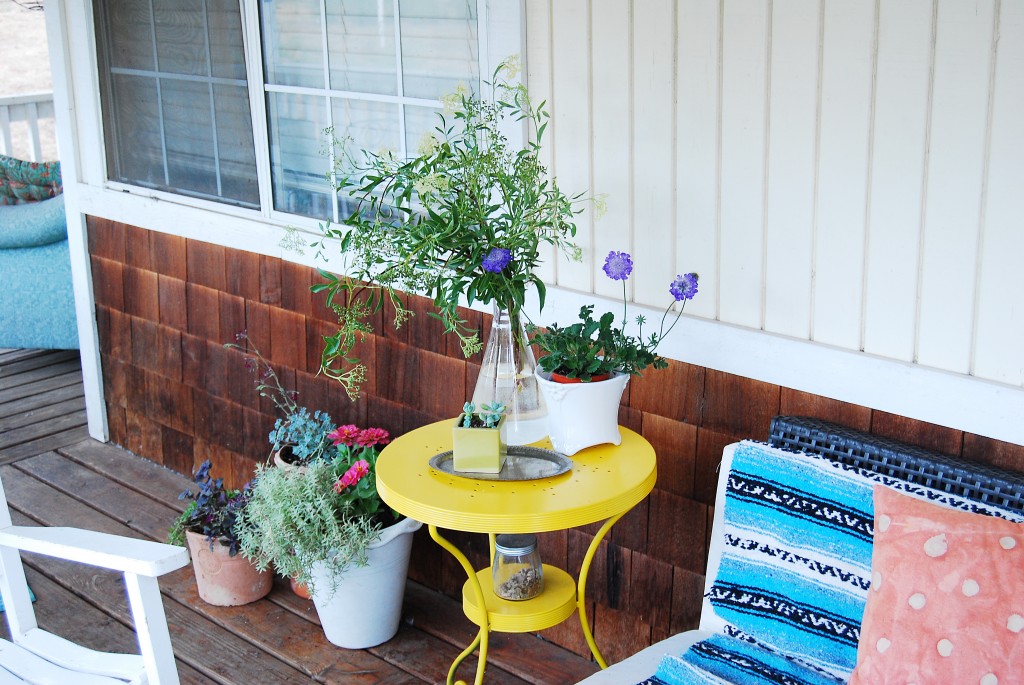 I found that it really started looking homey out here when I added a few things to my bright yellow side table.
Despite giving up on the raised bed for now, we do have a few nice things happening elsewhere on our property. Mr. Heylucy has been planting trees every weekend, hoping to replace some of the shade we lost when our oak trees died. We discovered that a previously unknown bush is actually an elder berry shrub. It doesn't seem to mind our climate, and has become enormous this last year. I don't know why we never noticed that it had berries on it before. I may have to try making some elderberry syrup later this summer, and bottle it up to treat winter colds.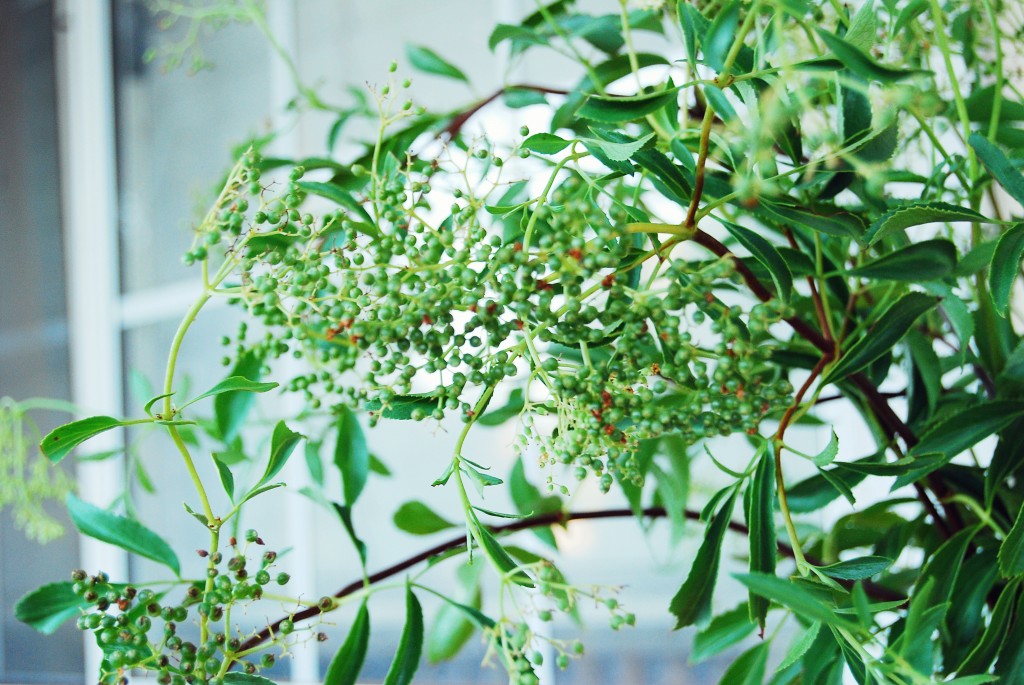 I put in a few tomatoes by the chicken pen, and they are growing and starting to bloom, so I'm hopeful that we'll get at least enough to enjoy in salads. Someday I want a giant tomato patch so I'll have enough to can and make sauce to last all winter. I have two big pots near the back door. I stuck a few strawberries in one, and the two little dogs thought it would be great fun to jump in and dig it all up. I haven't even had the heart to clean up the soil they spewed all over the walk way. Nobody got any treats that night, I can tell you.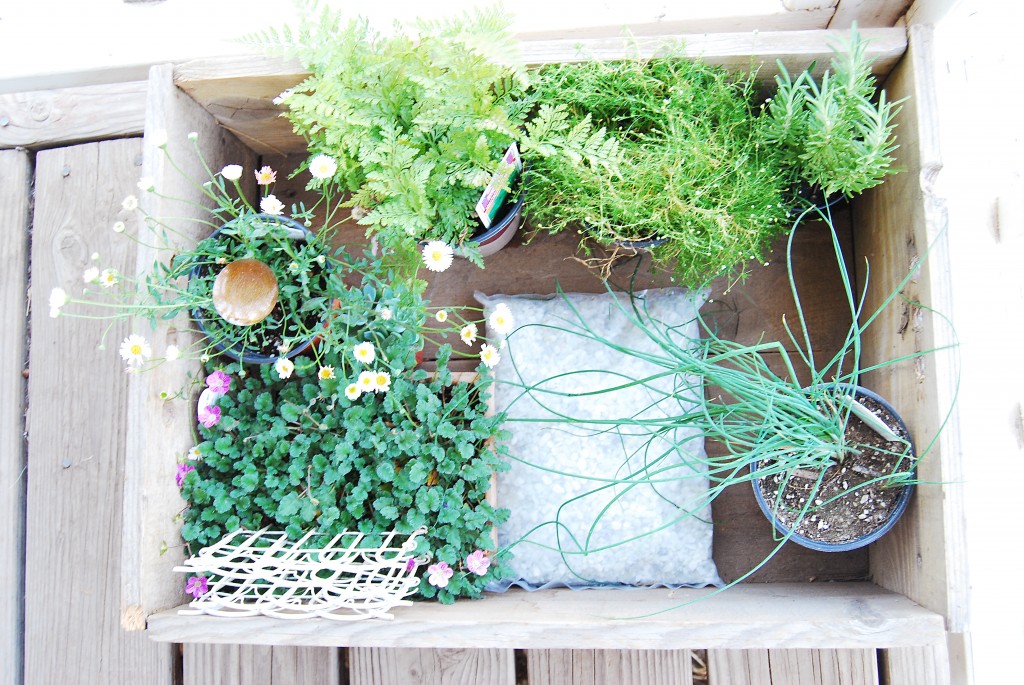 Next up: a fairy garden in a box! Pulley says, "yay, something else for me to play with on the porch!"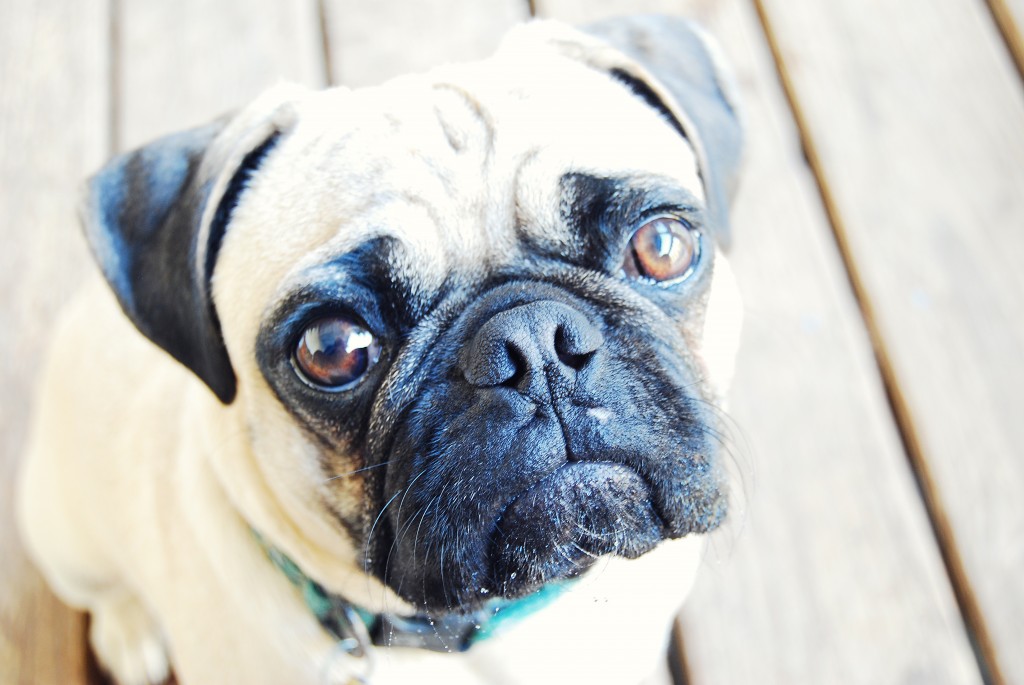 Look at that face! I love the little water droplets on his whiskers. His favorite thing to do is bring sticks on to the porch and then chew them up and leave all the little bits for me to sweep up. It is not my favorite thing.